My work covers a number of areas of interest, including fine arts, sports, travel, nature, and candid portraiture.

My photography has been featured in a number of venues, including the cover of the Reaching Heights 2011 Year in Review, the covers of two recent issues of the Cleveland Institute of Music monthly magazine, and on many local websites maintained by area schools, churches, and fine arts organizations. My work was featured at the Federated Art Gallery in Chagrin Falls in April 2012.

I am the principal outside photographer for the Cleveland Heights High School Athletic Department and Vocal Music Department.

I use Nikon SLRs (D3 and D4) and lenses exclusively, and process my photographs using Lightroom 3 digital software.

Please contact me if you are interested in having me work with your business, school, church, fine arts organization or family to produce stunning and creative candid photography.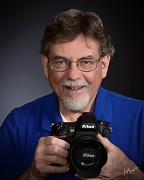 Carl M. Jenks

Contact Carl